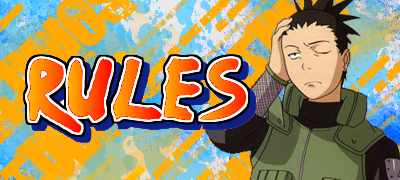 Naruto RPG forum RULES
MAIN RULE!
You must abide by all rules of the forum as well as the game!

-------------------------------------------------- -----

The basic rules:



First It is strictly forbidden to post vulgar, rude words, swearing in immediate following warning or ban!
Second In the event of threats or insulting other members will get a warning!
3rd It is strictly forbidden to post photos, clips or anything else that contains pornography and such, applies to hentai!
4th Do not argue otherwise follows a warning! Respects the higher rank you are a word is law and admin end.
5th If you open the topic with the text taken from a site, forum necessarily at the end of the text in brackets to put a name or address, eg: (source: The mystery of the world)



-------------------------------------------------- -----

Your Profile:



First It is desirable to have an avatar, do not put the big picture, see the avatars of other members.
Second You can have a signature and it can only make image and text anything else, as well as smaller images (To be read by rapid page). Signatures are big and ugly you will be removed.
3rd Your nickname must not contain nasty, provocative and vulgar words or the caliber of say dfsdjfhsjkfd.


-------------------------------------------------- -----

Messages and posts ::




First Double posts are spam, but it is strictly forbidden except for the part where she has the game!
Second Before you open a theme check for anything.
3 You can put the same issue on the condition that it is not in the same text, pictures, video.
4th Do not put the big picture before you post a check and if necessary, reduce or expand the forum page must use a spoiler tag.
6th Only Admins must write all the text in color! (Other members of only one word or phrase must not both)
7th Writing whole sentences in capitals is prohibited (only admins should), if you want to emphasize something use bold capital letters because it considered shouting!
8th No spaming!
9th Anyone posting something that has nothing to do with the subject will be considered spam!


-------------------------------------------------- -----

Other rules:



First For following the rules you will get a warning and reprimand-5 follows the ban for a week or more depending on what you have done.
Second It is desirable to introduce myself.
3rd Links always go in code tags.
4th You can leave advertisement only if you have 30 posts.
5th View Forum nesnosi consequences for the data leaving the forum, in the case of harassment, copyright infringement ...
6th Advertising through P.M. is strictly prohibited.
7th Double profiles without notice admins that made it implies a ban on all of your profiles and IP addresses and e-mail address.
8th Good fashion is strictly forbidden!
9th Enjoy the forum!



Admin Team Forum


The forum is protected by copy-right so that every unauthorized taking things (attacks, various missions, pictures, game stories ...) on this board, and for other purposes by exploiting your forums, websites, etc.. considered a violation of copyright law! In such a case will be filed complaints against your site or forum, etc.
The whole RPG system on this forum is unique!



* The forum can be found things that were borrowed from others (an image or text) in this case we do not retain copyright on it!